Mohave County District Library – Kingman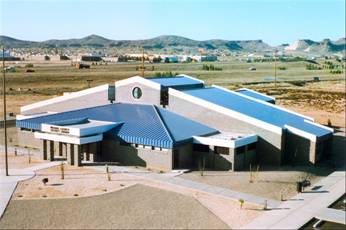 This project included developing a scope of work and designing a new library of 15,500 square feet, carried through to final completion.
This building included an Entry Area, which includes the following: an entrance and vestibule, restrooms, storage, multi-purpose room and book drop. The Library Materials and Service area is comprised of a circulation area, public service administration, reference collections, periodical/newspaper collections, adult collections, young adult collections, large print area, juvenile collections, a court yard, public access, and an equipment area and lounge. Children's Services consists of a child activity area, pre-reader's collection, and restrooms. The Staff Area included administrative reception, Administrative Director's area, staff lounge, staff restrooms, receiving, technical services, and a storage room. Finally, this building included a utility area and janitorial room.
The design disciplines included architectural, civil, landscape, mechanical, electrical and structural. This project was also designed for utilizing advanced telecommunications and computer technology.
The library was completed on schedule and within budget.